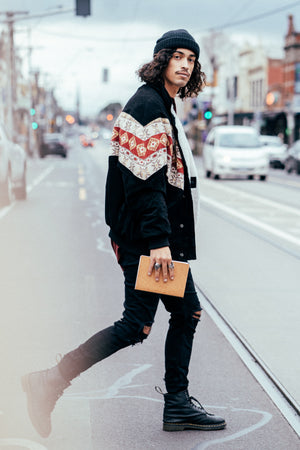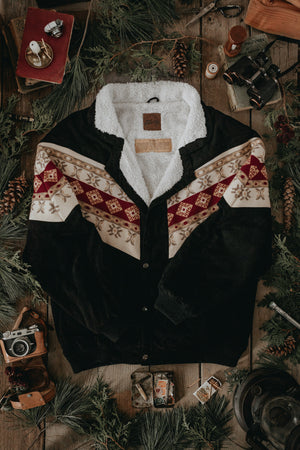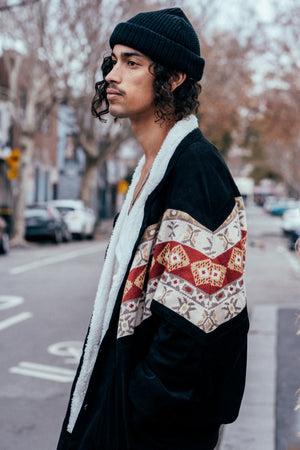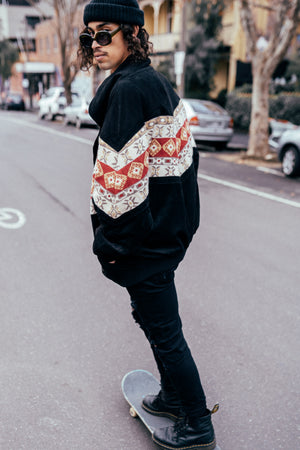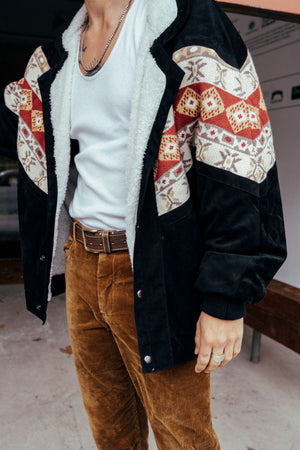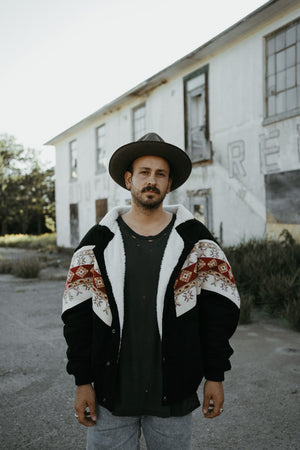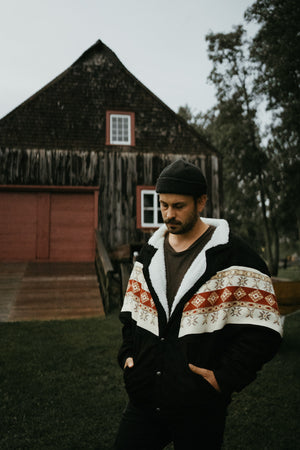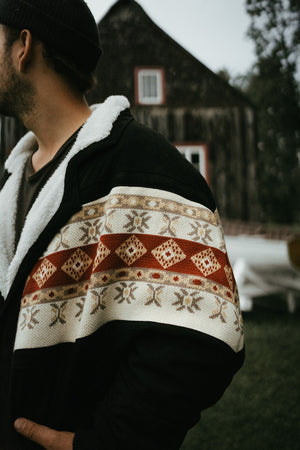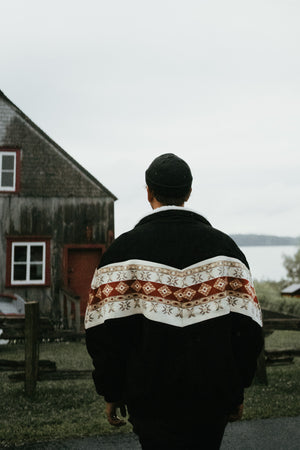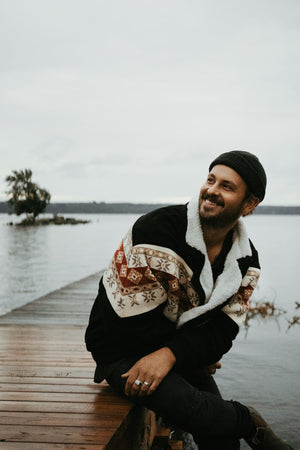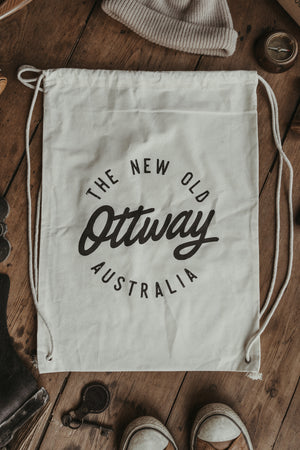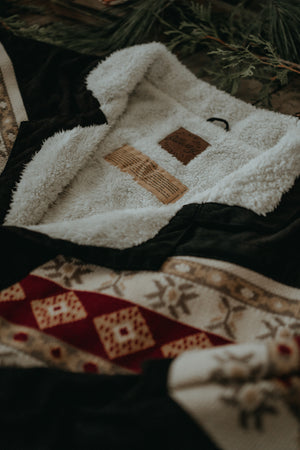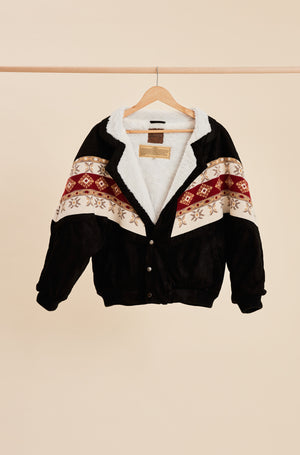 Product specifications

A new twist on our favourite jacket...Unusual, uncommon, and exceptional.
This jacket pays tribute to the rarest of the rare...
Vegan suede, made out of non-animal leather
Inner lining made from 100% cotton
Hand woven embroidery patterns
Oversized Jacket
2 hip pockets
1 zipped inside pocket
The fabric has a raised finish inside to give extra softness when its worn
Included: Drawstring Ottway cotton carry bag!
The Rarebird Jackets are an OTTWAY EXCLUSIVE design and are ONLY SOLD ON OUR WEBSITE. Please be aware of SCAM accounts stealing our photography and fakely promoting our unique jackets. 
Size
Model is 5'9 (180 cm) and wears size L. Please refer to the size guide below, keep in mind the jackets are made to be oversized. 

Find your Size

Garment Measurements (cm)

SIZE

HEIGHT

BODY LENGTH (1)

CHEST (2)

SLEEVE LENGTH (3)

cm

feet

XS

<160

<5'2"

65

58

72

S

160-165

5'3"-5'4"

67.5

61

75

M

166-176

5'5"-5'7"

71.5

64.5

82

L

177-185

5'8"-6'1"

76

68

84

XL

186-190

6'1"-6'2"

77.5

71

85

XXL 

>190

>6'2"

79

74

86
 If you need further information please click the "Chat with us" button and will help you select your size

 Please bear in mind that this jacket is designed to be oversized and sits like a 'bomber jacket fit' on the body. Therefore, the chest measurements may seem bigger compared to when it is on your body as it will fall around your shoulders to create that baggy look. Please also note that the measurements are done with the jacket closed, whereas on a person the jacket is often worn open.
Easy returns
Shop with confidence knowing you can easily exchange or receive a store credit for your items. 
Your contribution
With every purchase, you are promoting a sustainable future by donating funds towards the installation of solar power in community-owned projects around Australia that otherwise are unlikely to happen. Read more on our Sustainability page.
Every design has its own story ...
SHIPPING
Orders are dispatched  within 1 business day (often same day) from our Flagship Store in Melbourne
Score FREE SHIPPING when:
Australia orders over $175 AUD
USA orders over $150 USD 
New Zealand orders over $185 NZD
Delivery Options:
AUSTRALIA & NEW ZEALAND RATES
We deliver products within AUS & NZ using Australia Post:
| | | |
| --- | --- | --- |
|  SERVICE | DELIVERY TIME | COST |
| Standard Shipping  | 2-4 business days | $10 AUD / $15 NZD |
| FREE Shipping (over $175 AUD) | 2-4 business days | FREE |
| Express Shipping  | 1-2 business days | $15 AUD / $20 NZD |
| Local Pick-up (Collingwood, VIC) | Same day | FREE |
Note that we ship everything from our Flagship Store in Melbourne, so the closer you are to us, the faster your order may arrive ;)
USA RATES
For all USA deliveries, we use the fastest & best shipping service available with DHL EXPRESS to ensure a premium delivery.
| | | |
| --- | --- | --- |
|  SERVICE | DELIVERY TIME | COST |
| Express Shipping | 3-5 business days | $15 USD |
| FREE Express (over $150 USD) | 3-5 business days | FREE |

OTHER INTERNATIONAL RATES
For International deliveries, we use DHL EXPRESS to ensure a premium delivery. 
| | | |
| --- | --- | --- |
| COUNTRY | DELIVERY TIME | COST |
| Canada | 3-5 business days | $30 CAD |
| Europe | 3-5 business days | 30 EUR |
| UK  | 3-5 business days | £25 |
| Asia | 2-4 business days | $30 AUD |
| Rest of the World | 7-10 business days | $75 AUD |
At OTTWAY, we are committed to service excellence and we endeavour to get orders to our customers as quickly as possible. 
INTERNATIONAL CUSTOMS
We love seeing OTTWAY around the world! As of today, we have shipped orders to over 30 countries and counting! 
Please note that shipping internationally does mean that you may be required to pay customs and import taxes.  
USA Orders below the value of $800 USD will NOT incur any import tax or duties.  HAPPY DAYS :)
EUROPE & UK Orders please note, that there are new VAT Rules introduced by the European Union in 2021 for shipments coming to Europe.  
All international customers are responsible for any potential customs rates within their own country.
All shipping services exclude time in customs if applicable and may be subject to delay due to causes outside of DHL EXPRESS control. 
* IMPORTANT NOTE: If local customs are applicable and customer decides not to pay the applicable local customs, after some days the order will be considered as "return to sender" and ship back by DHL to our warehouse in Melbourne (Australia).
Please note in this unlikely scenario, the applicable DHL shipping cost to send it back to Australia will be responsibility of the customer.
FAQ's
Please find below some of our most Frequently Asked Questions. If your question isn't answered here, or if you would like to get in touch you can reach us via hello@ottwaythelabel.com
Do you ship overseas?
Yes, we ship worldwide using DHL EXPRESS ensuring best possible service. Please refer to our Shipping page to calculate your cost.
Will I have to pay for customs & duties?
USA Orders are exempt of any duties for orders up to $800 USD.
For other international customers we recommend contacting your local customs office. All international customers are responsible for the customs rates within their own country. Ottway is legally required to declare the full value paid on shipments and must include an invoice for customs should they require it.
How do I make sure I order the right size for me?
Please refer to our Size Guide that is located on all product pages for more information and size conversions. As well, you can find our models measurements and the size they are wearing plus a detailed fit description.
Keep in mind the designs are normally made to be slightly oversized. 
Do you offer exchanges?
Yes, sure! We want you to be 100% happy with your purchase from us at Ottway.
Please email us at hello@ottwaythelabel.com including your order number, then our friendly customer service will go through the exchange process with you. Note you can return it within 30 days of receipt.
Do you offer refunds?
We only offer refunds if you have received a defective product. You always can ask for a store credit if you find that the item is not right for you.
Please send an email to hello@ottwaythelabel.com and we will instruct how to return your item and once we receive it, we will issue you with your store credit.
You can read about our Return Policy here.
What do I do if I receive a faulty/incorrect item?
If you have received the wrong item, or if something is missing from your order, we are sorry! Please email us straight away at hello@ottwaythelabel.com and we will arrange a replacement or refund for you as quickly as possible. For a faulty item, we request that you also include a photo of the fault. All return details will be provided via email within 48 hours. 
My address is wrong, can I update this?
Don't worry this can happen.

We have a small window before your order is shipped out where we can attempt to update the delivery address for your order. Please email us at hello@ottwaythelabel.com and let us know your order number and the updated address and we will do our best to fix this up for you.
How long will it take to ship my order?
We ship orders on a daily basis from our Flagship Store in Melbourne, the closer you are from us the fastest the order will get to you. Our daily shipping cut-off time is 12PM. You will then be provided with a tracking link to follow the progress of your delivery with Australia Post.

How can I track my order?

Australia Post is our chosen logistics partner for Australia & New Zealand. Providing a reliable, trackable nationwide service. For shipment tracking visit Australia Post Track
For International Order please use DHL Express Tracking website.
Are all our jackets and shirts unisex? 
Yes, our clothes have no gender. Designs and sizes are the same for men and women.
How can I wash the Rarebird Jacket? 
The best way to clean your jacket is a gentle spot clean with cold water OR dry cleaning if need be as it is made from microfiber which is more stain resistant than normal suede.
Do you have a shop?
At Ottway the Label you can shop with us 24 hours a day from all over the world on our online store. For all of our local friends we have our Flagship Store in Collingwood, Melbourne at 31 Sackville St - come and say hi!
We have also recently opened a store in Byron Bay, NSW at 15 Lawson street. 
Also we have a small number of stockists that carry selected Ottway designs in their boutiques, you can view the list here. 
Do Ottway restock products and can I be notified if an item restocks?
Yes, we restock all our products a few times during the year. Ottway designs don't follow seasons & trends, there's always a good time to wear them.
If you are looking for a product that it's out of stock, you can always leave your email on the product page to be the first to know when it is back in stock.
I spent more than $175 AUD and I haven't received FREE SHIPPING, why?
Please be aware that our Free Shipping promotion over $175 only applies to Australia and New Zealand.
SUSTAINABILITY
With every purchase, you create a change
At OTTWAY we are proud to promote a sustainable future by donating funds towards the installation of solar power in community-owned projects around Australia that otherwise are unlikely to happen.
We aim to improve our communities by giving the gift of clean energy.
How do we achieve this? 
Our impact so far
Impossible to return even though the item came damaged. Clothing quality is super mediocre for what it costs
I've never left a review on anything I've ever purchased. But man did I have a horrible experience with this company. I got the jacket in the mail, tried it on, and simply didn't like it. The jacket looks great in photos but in person it did not hold up. It felt cheap and very low quality. IT IS NOT WORTH $200 PEOPLE! I then Reached out to Ottaway for a refund and they told me they don't do refunds only exchanges. I asked 3 times for a refund of my money and was told no because "company policy" . What a scam. I'm a business owner myself, if one of my costumers told me they were unhappy for any reason I'd move heaven and earth to fix what ever issue they're having, I guess I'm old school like that.
I'm really unhappy with the product and the customer service of this company, I'm sure they'll reply to this review with some bs generic response they give to everyone, but they won't give me my money back.
Quality product
Quality fabric which Feels incredible on the skin and super versatile for any occasion
Hey Chris!! you legend!!! thanks so much for such a nice review!! so good to hear you are enjoying your Rarebird!!! See you around!!!!
Amazing Jacket
Bought this for my son and he looks amazing in it. It's by far the best item of clothing he owns. The quality is exceptional and he says it is so comfortable and warm.
Hey Leomonie, this is just beautiful! so good to see both of you happy :) a proud mum and happy son rocking his new jacket!!! have a great day!!
Ottway is ambitious about their mission for responsible fashion. The products may not be numerous, but the quality is sublime. The artistic environment, the homely experience, the helpful staff, the stylish clothes were beyond compare. I would highly recommend saving up to support Ottway, because their products are both wonderful and responsible- reflective of the future of responsible fashion.
Izzy Pauls
Beautiful vintage patterns and high quality fabric. Absolutely love everything these guys produce, the fit, styling and quality is incredible. The brand also has excellent ethical and environmental values built in to their business too. LOVE it
Will Hudson
This label has to be not only one of the best with style but is also one of the best at doing different things to help save our little planet and make the world a better place, love OTTWAY
Joe Mathieson
Attention to detail
Our packaging isn't the usual plastic packet..⁠. A 100% recycled box, sent in a compostable plant material delivery slip...
Make it special with a hand written note on an Ottway postcard straight to your loved ones hands!